Taking the '80s BEYOND :: The Wavos are an ARENA-SIZED new wave bar, pub & club band, presenting a huge show of '80s covers & originals. Don't miss their next wave-o dance party :: have epic fun!
Come and join The Wavos for a big upcoming NOVA weekend; Friday, December 8th, at Murphy's in Old Town Alexandria, 9:00 pm to 1:00, and at Colonial Tavern in Fredericksburg VA, Saturday, November 9th, 8:00 pm to 12:00 pm, for two Wave-O-Dance-Party shindigs! We hope to see y'all there! Check our SHOWS page for more details and Wavos shows near you!
You can now listen to "The Wavos Radio" station on Pandora, and you can stream us on Spotify, Apple Music, Amazon and YouTube!!! 
You can buy Wavos T-shirts online, here in our new STORE!
The Wavos play private parties & events from house parties to arenas! Hit the BOOK THE WAVOS! button and EMAIL US!
Here's what else is happening in Wavoland:
1) 26 Live Clips from recent shows:
2) State Theatre 11/4/17:
3) State Theatre 11/4/17:
4) State Theatre 11/4/17:
5) State Theatre 11/4/17:
6) Our song "Chit Chat" is featured in the 2015 horror film The Barn: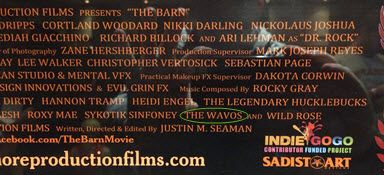 7) A video taste of our ever-popular, four-hours-of-fun '80s "new wave-o" dance party:
8) A WAVO HELLO & SALUTE!